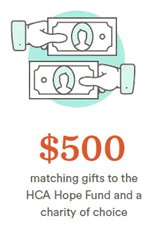 Every calendar year, each colleague has $500 in matching funds available for the HCA Healthcare Hope Fund, and $500 in matching funds available for other nonprofit organizations. In order to receive a match, colleagues only have to give $25 to the organization.
Each colleague can access a maximum of $1000 total in dollar-for-dollar matching funds ($500 to the Hope Fund and $500 to other charities).
The minimum gift is $25 per selected organization to activate HCA Healthcare matching gifts.
If an colleague sets up Recurring Payroll Deductions that would total $25 to an eligible charity over the course of 12 months, they can activate the HCA Healthcare match. The gift/match can be created at any time during the calendar year, and the matching funds will begin immediately.
Matching funds are available to any public 501(c)3 charity in the nation with the exception of places of worship.
HCA Healthcare Colleagues

Learn more about how you can leverage HCA matching gifts.
Explore the HCA Healthcare's giving platform.